Front Porch Punditry » The Woodshed » pookie's toons » Today's Toons 10/7/19
#1
Today's Toons 10/7/19
by
pookie18
07.10.2019 04:20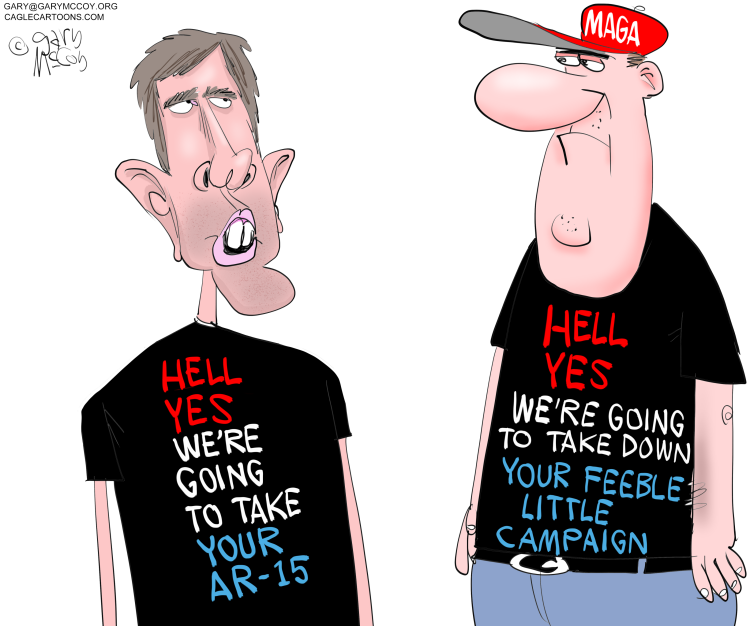 Click below for related story: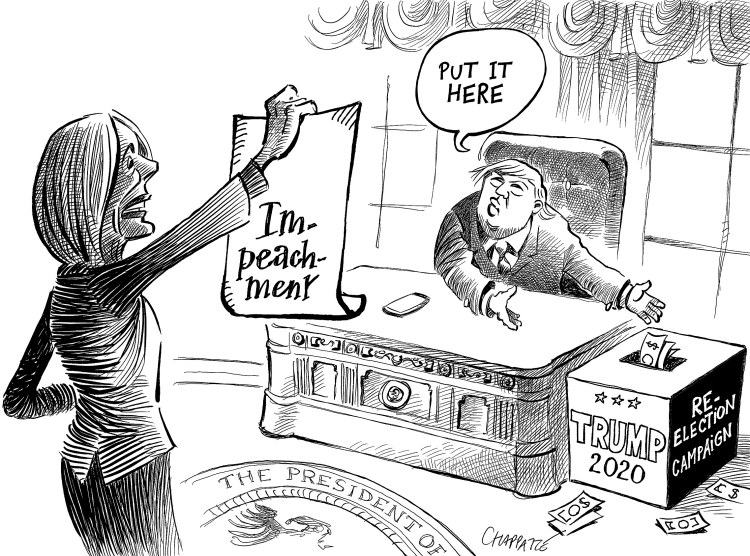 Click below for intial procedure:



Click below for related story:



Click below for related story:



Click below for Tony's toons: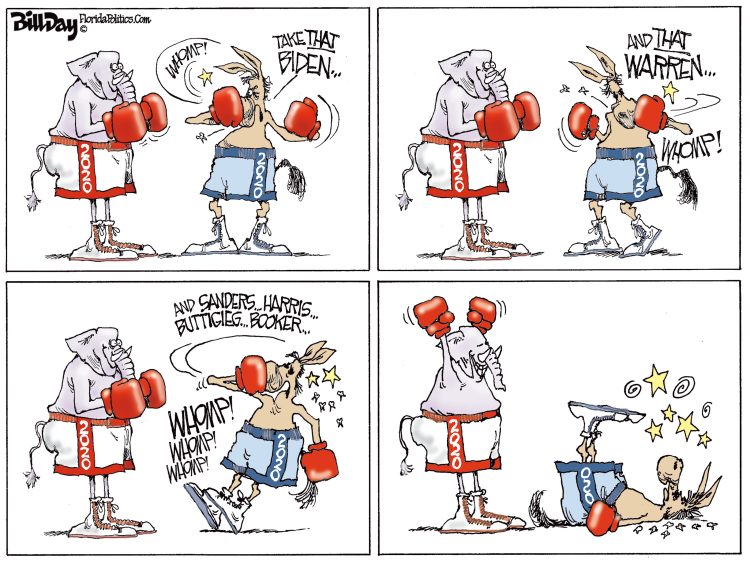 Click below for related story/video: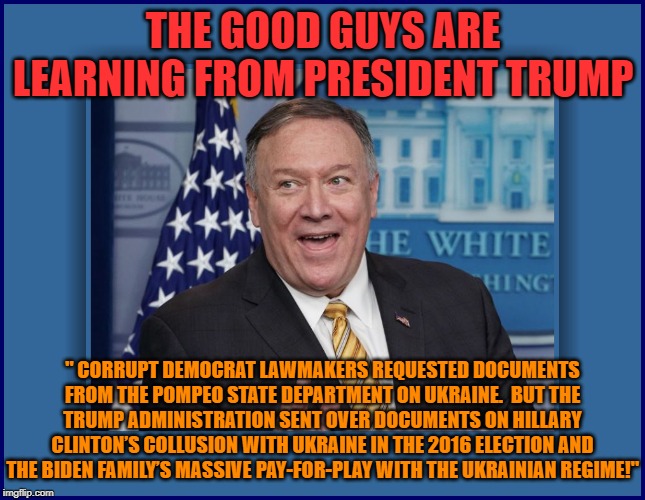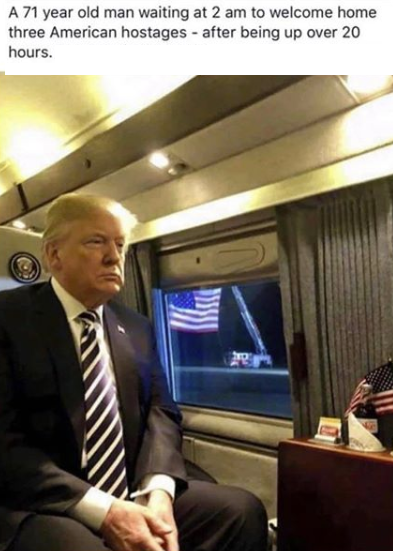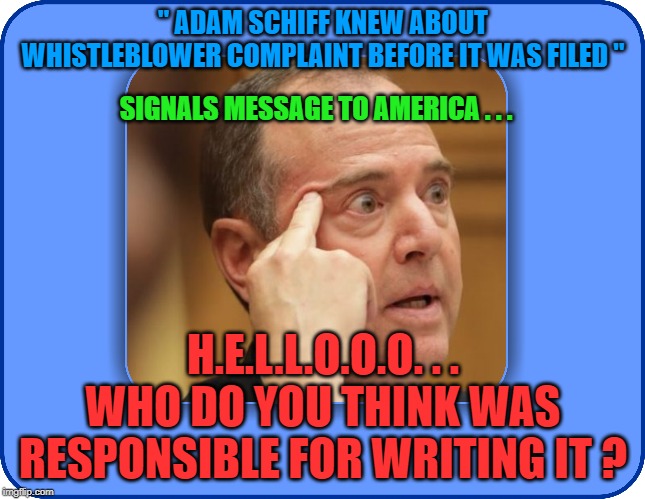 Click below for related story: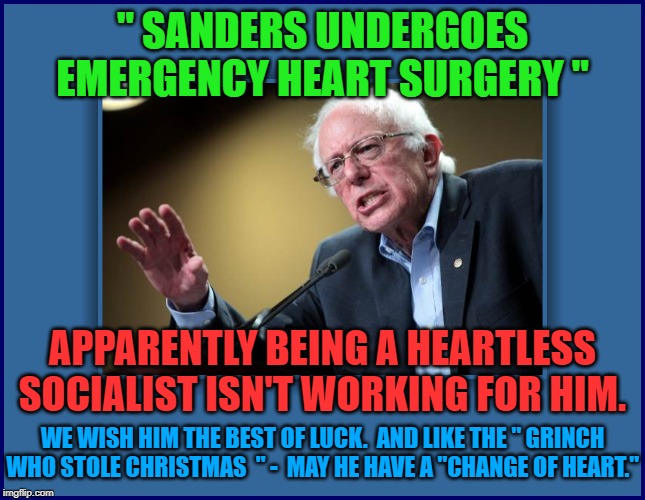 This Thread Brought To You By The Letter T:


(Thank you, cartoonist Rex May)

In Case You Missed It Dept.:

President Trump is at the UN building a coalition against Iran for its missile attack on Saudi Arabia. U.S. and British warships are en route as Iran vows all-out war. An optimist is anyone who sees today's world situation and thinks we will be around long enough to perish from climate change.

Canada Prime Minister Justin Trudeau admitted being in blackface as a teen and blamed it on his privilege. Virginia governor Ralph Northam was also busted for blackface last spring. I'm shocked in these enlightened times that there are still people in blackface masquerading as politicians.

Beto O'Rourke did stand by his vow that as president he'd be for a U.S. government buy-back of weapons last week. It turns out, records show that Beto O'Rourke has been arrested for drunk driving, leaving the scene of an accident and burglary. So you see, I couldn't sell him my gun if I wanted to.

Iowa's Democrats sponsored their traditional election-year Steak Fry Saturday in a year where all the candidates are talking about getting rid of cows. The crowd put aside AOC's Green New Deal and enjoyed ten thousand steaks. It's too bad cows can't vote because to them AOC is Lady Hitler.

The New England Tourism Bureau says a record number of motorists will drive through there this autumn to see the glorious sight of the leaves turning on the trees. Of all the seasons, fall is my favorite. I love to go up to Canada this time of year and watch the prime minister changing colors.

President Trump made a case against Iran's leaders in a speech to the UN General Assembly in which he hoped for peace but threatened war. Iran is the nation that should be most worried about climate change. Any time tomorrow it could be five thousand degrees and cloudy.

Sylvester Stallone returned to the big screen as Rambo: Last Blood opened in movie theaters Friday in the fifth installment of the Rambo series. Just yesterday, Stallone agreed to shoot yet another sequel, this one co-starring Canadian Prime Minister Justin Trudeau. It'll be called Sambo.

Adam Schiff opened House hearings on the Ukraine phone call scandal Thursday by making up what Trump told Ukraine president, using a Mafia boss scenario. Schiff later claimed it was parody, although it got no laughs. Iran is less dangerous than comedy in the hands of an Open Miker.

Republicans insisted Hunter Biden be investigated for the foreign deals he received while his dad was VP. Hunter was kicked out of the Navy five years ago for doing cocaine while on duty. They got suspicious when he set a Navy record by swabbing the deck of an aircraft carrier in eight minutes.

Democratic presidential candidates continued pounding away in Iowa and New Hampshire this week with the polls starting to tighten. Last week Elizabeth Warren rose to a solid number two in the Democratic field. Bernie Sanders lamented he hasn't had a solid number two in decades.

-- Argus Hamilton



(Thank you, Rev)
#2
RE: Today's Toons 10/7/19
by
ThirstyMan
07.10.2019 05:03



We're living through an unbelievable time of deceit!

God help us! and thank you Pookie!
#3
RE: Today's Toons 10/7/19
by
pookie18
07.10.2019 05:14
Quote: ThirstyMan wrote in post #2

---




We're living through an unbelievable time of deceit!

God help us! and thank you Pookie!

---
You're welcome, TM!