Front Porch Punditry » The Woodshed » pookie's toons » Today's Toons 9/18/17 (1 NSFW)
#1
Today's Toons 9/18/17 (1 NSFW)
by
pookie18
18.09.2017 04:16
Click below for related audio:



Click below for related story:



Click below for related story:



Click below for Tony's toons: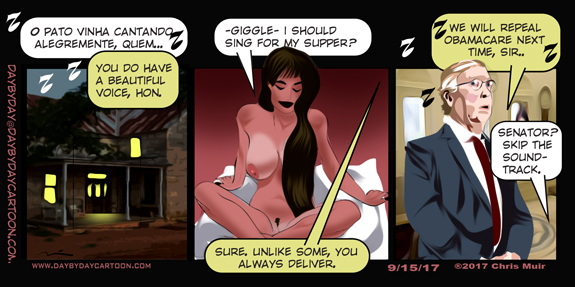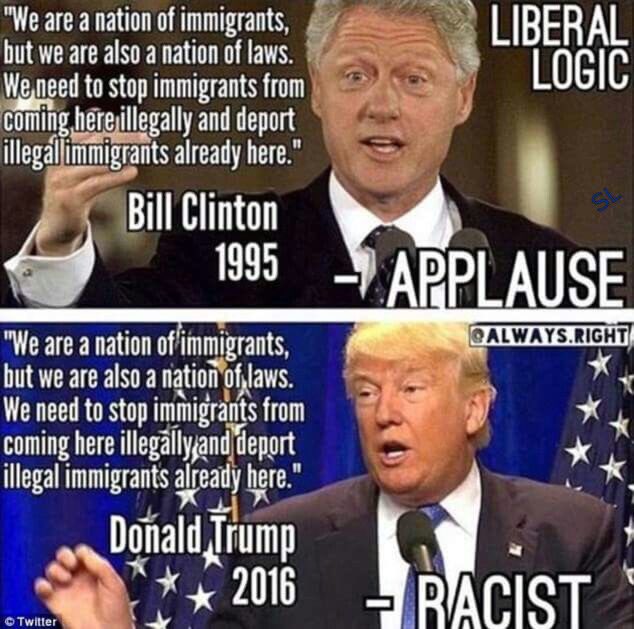 Click below for related story/video:



Click below for related story:



This Thread Brought To You By The Letter P:




In Case You Missed It Dept.:

Hurricane Irma hit Florida a week after Hurricane Harvey shredded Texas with tornadoes, hail storms and flooding, while L.A. firefighters battled wildfires. Let's get honest here. Mother Nature needs to stop with all the hurricanes, tornadoes, hailstorms and wildfires and accept that Hillary lost.

Bill Clinton denounced Trump's shelving of DACA as immoral Tuesday. He's one to talk. The three greatest streaks in history are Joe DiMaggio's 56-game hitting streak, Oklahoma's 47-game winning streak, and Bill Clinton's streak from the study to the Oval Office desk to answer the phone.

Hillary Clinton's new book What Happened arrives in bookstores Tuesday in which she lists all the reasons she lost last fall's election. It's certainly not her fault. She blames Jim Comey, the Russians, the DNC, Bernie Sanders, and finally blames her parents for having her in the first place.

President Trump turned the tables on GOP conservatives Wednesday by striking a deal with Senator Chuck Schumer and Nancy Pelosi to extend the debt limit and pay for Harvey damage. President Trump turned Democrat for a week. It's reduced Stephen Colbert to mother-in-law jokes.

The California Assembly voted to name a stretch of the Ventura Freeway after Barack Obama Wednesday. It's no surprise. All you need to know about the political climate in L.A.'s Westside is that if Nicole Brown Simpson had placed a Trump sign on her front lawn, anybody could have done it.

CBS Late Night host Steven Colbert on Thursday gave a Heil Hitler salute while referring to President Trump. It's the show business fallback position. Giving the Hitler salute to Trump is an over-the-top gesture but it requires a lot less paperwork than moving to Canada like you promised.

German Chancellor Angela Merkel offered to mediate the dispute between North Korea and the U.S. to avoid war. We have reached the point where the country that started the last two world wars is offering to be peacemaker. Dennis Rodman is now the second-craziest way to settle this thing.

North Korea's Kim Jung Un replied to the UN Security Council's threat of new sanctions if he doesn't give up his nukes Monday by threatening to destroy the U.S. At least he acknowledged the message from the UN. Did you ever get a restraining order and think, finally we are communicating.

The White House ordered the aircraft carrier USS Abraham Lincoln to the Florida peninsula following Hurricane Irma. It's all part of the cycle of life down there. First comes the destruction, followed by Emancipation, next comes Reconstruction, then finally by the tearing down of the statues.

Hillary Clinton launched her book tour Tuesday in which she's blaming the Russians, Bernie Sanders, the DNC, sexism and Jim Comey for why she lost. A rescue operation is pending. When O.J. Simpson gets out of prison in three weeks, he's going to help Hillary find the real reason she lost.

Republican lawmakers on Capitol Hill began complaining this week about President Trump's recent compromises with leading Democrats. The president had dinner at the White House with Chuck Schumer and Nancy Pelosi on Wednesday. It was just the three of them and their food tasters.

-- Argus Hamilton

Hillary Clinton's book "What Happened" came out today, and I heard that it's almost 500 pages long. Unfortunately, the only person with enough time to read it is Hillary Clinton.

I heard that Hillary will actually be signing books at a Costco in Connecticut. It's going to be awesome when someone gets to the front and goes, "Oh, I thought this was the line for cheese samples. I'm sorry. Can you sign a cheese sample?"

If you pick up a copy of the book, you'll see that a lot of notable people wrote little blurbs in the back cover. I'll show you what I mean. Barack Obama wrote, "I'd say I got to hand it to you, but the last time I tried to hand you something, you lost it to Donald Trump." President Trump wrote, "I loved it. Especially the end, I really did not see that coming. Enjoy."

In her new book, Hillary said that she took a nap as the results were coming in on Election Night. And while she did that, Bill gathered a month's worth of clothes and got the hell outta there.

Meanwhile, I saw that Hillary is going on a cross-country tour to promote the book. Then Democrats said, "Oh, so NOW you'll visit some swing states."

-- Jimmy Fallon


In another tweet, Trump added "Move fast, Congress." Now how can you tell Congress to move fast when the Senate majority leader is literally a tortoise? [Shows picture of Mitch McConnell]

This morning on the "Today" show Hillary Clinton gave her first live interview since the election. It did not go well. She started out talking about the election but she just ended up drinking a case of wine with Kathie Lee and Hoda.

-- James Corden

Huma Abedin and soon-to-be ex-husband Anthony Weiner say that they want to keep their divorce proceedings private. However, Weiner insisted he's still going to keep his [private parts] public.

President Trump now says he wants the wealthy to pay more taxes and undocumented minors to be allowed to stay in the country. Then, this morning, Trump accused himself of being born in Kenya.

-- Conan

Hillary Clinton is promoting her new book. She told Anderson Cooper that a lot of people come up to her now to apologize for not voting. And when they do that, she says she doesn't forgive them. I guess she used all her forgiveness up on her husband.

-- Jimmy Kimmel




(Thank you, Rev)
#2
RE: Today's Toons 9/18/17 (1 NSFW)
by
algernonpj
18.09.2017 10:36


And the other is dependent upon cheap labor loving corporate.

Thanks @pookie18
#3
RE: Today's Toons 9/18/17 (1 NSFW)
by
pookie18
18.09.2017 10:40
Quote: algernonpj wrote in post #2

---



And the other is dependent upon cheap labor loving corporate.

Thanks @pookie18

---
You're welcome,
@algernonpj
!