Front Porch Punditry » The Woodshed » Politics With an Attitude » Had enough yet? » 'Sickening': Art Piece Featuring 'Jesus Crucified to a Dartboard' Causes Furor at Rutgers University
#1
'Sickening': Art Piece Featuring 'Jesus Crucified to a Dartboard' Causes Furor at Rutgers University
by
Cincinnatus
27.04.2016 00:28
To my knowledge Rutgers isn't one of the sites where chalk messages promoting Trump have caused several students to go into meltdown. But it's happened at a number of universities which cannot tolerate that, but Rutgers can accept this: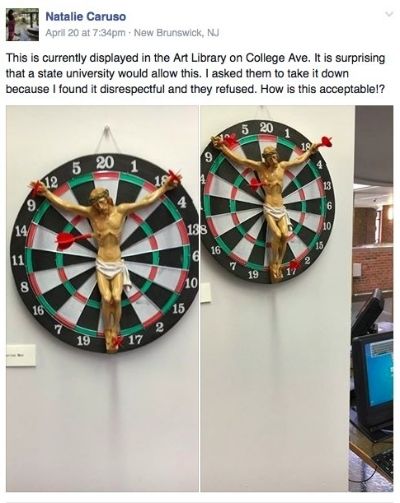 Zitat

---

Officials at Rutgers University in New Brunswick, New Jersey, have removed a controversial art display that depicted Jesus affixed to a dartboard — a piece of art that one conservative commentator called "sickening."

The piece, titled, "Vitruvian Man," featured Jesus Christ "nailed" to the board with four darts. It was on display inside of the Art Library on Voorhees Mall before complaints from students and alumni led college leaders to take action, NJ.com reported.

"The artwork in question was removed from the exhibit because it did not meet Rutgers University Libraries policy, which requires art exhibitions and their pieces to be based on university events, curricular offerings and topics of interest to the university community," Jessica Pellien, director of communications at Rutgers University Libraries, told the outlet.

She said that there is a process through which libraries determine how to choose artwork for display, but that the "policy and process the libraries use to select artwork for exhibitions was not followed" in this case.

At first, the Jesus-themed piece was removed from a prominent spot near the circulation desk and moved to a lower shelf of a more concealed display case. But it was later taken out all together, according to NJ.com.

The university has not named the individual who produced the piece of art, and it is unclear whether it was a student or faculty member, but one thing is absolutely clear: the debate over the now-removed piece has extended well beyond the Rutgers campus.

"The art exhibit inside a campus library at Rutgers University was sickening – Jesus crucified on a dartboard," conservative commentator Todd Starnes wrote. "I've often wondered why the artistic class seems compelled to denigrate and desecrate the Sacred."

---
#2
RE: 'Sickening': Art Piece Featuring 'Jesus Crucified to a Dartboard' Causes Furor at Rutgers University
by
Rufus T Firefly
27.04.2016 07:44
I guess I've been asleep the past few days - - -

I've missed the news where radical Christians at Rutgers have rioted, blown up the library, and randomly killed.

And I've also missed the boy emperor's inevitable lecture - where he chimes in on current events with his brilliant perspective of "diversity" and "tolerance" and how everyone should respect the beliefs of others.
#3
RE: 'Sickening': Art Piece Featuring 'Jesus Crucified to a Dartboard' Causes Furor at Rutgers University
by
truthkeeper
27.04.2016 10:02
Some things just leave you speechless.